This article is all about Sumatran tiger diet. We have researched some of the most interesting facts about what do Sumatran tigers eat. The Sumatran tiger (Panthera tigris sumatrae) is one of the rarest tigers in the world. There are only few wild tigers surviving on the Indonesian island, Sumatra. Sumatran cats prefer to live in dense natural forests which receive very little rainfall each year. They are exclusively meat-eaters.
What Do Sumatran Tigers Eat? – Sumatran Tiger Diet
Like other tigers, Sumatran tigers also prey on medium-sized to large ungulates such as Malayan tapir, sambar deer, Indian muntjac, greater mouse-deer, lesser mouse-deer, and banded pig. Above all, Sumatran tigers like to eat deer and pig.
They are at the top of food chain in Sumatra. Apart from ungulates, Sumatran tigers also eat a wide variety of other animals such as pig-tailed macaque, fowls, crocodiles, fish, and great argus.
They can eat as much as 40 kilograms of meat a day. Over the past few decades, tigers have declined significantly in numbers. As it turns out, many ungulates as well as native birds appear to have increased in population. The decline in Sumatran tiger's population has disturbed the entire ecosystem of the Sumatran Island.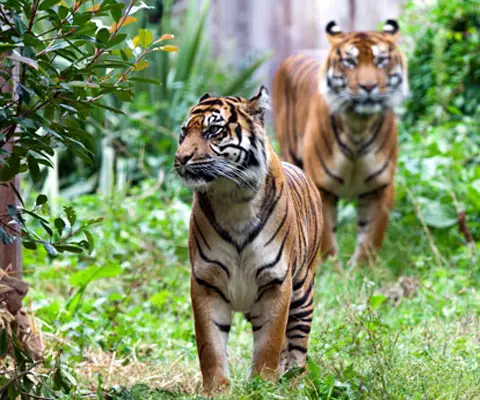 Sumatran tigers less likely live in forests which occur near human settlement. They feel home at uncultivated habitats with thick understory. They make homes in habitats which are dominated by acacia plantations. Sumatran cats usually live near water.
What Do Sumatran Tigers Eat in Captivity?
Sumatran tiger's diet in captivity is quite different from that in the wild. Wild tigers have a varied diet as they eat just about anything ranging from small birds to a large ungulate. The captive specimens consume foods which are rich in vitamins.
Breeders and zoologists typically feed tigers with horse meat which probably keeps the tiger healthy. Besides, breeders raise tigers for reproduction and feed them only those foods that help tigers in reproducing cubs. Sumatran tigers are fed 10 kilograms of meat each day in captivity.
---
"Periyar Tiger Reserve". www.periyartigerreserve.org. Retrieved 2015-10-29.
O'Brien, T. G.; Kinnard, M. F. & Wibisono, H. T. (2003). "Crouching tigers, hidden prey: Sumatran tiger and prey populations in a tropical forest landscape". Animal Conservation. 6 (2): 131–139. doi:10.1017/S1367943003003172.
 What Do Sumatran Tigers Eat? – Video