Do you know how long do white tigers live in the wild? This article is all about white tiger lifespan. White tigers are not true inbred nor do they exist in the wild—not any more at least. Currently they live in captivity. Therefore, it is not possible to estimate the exact lifespan of white tigers living in the wild. While they do occur in large numbers in zoos around the world, white tigers are thought to become extinct in the wild.
How Long Do White Tigers Live?
The last of the white tiger was observed in 1958. Since then the exhibitors or breeders insisted on producing white tigers through inbreeding.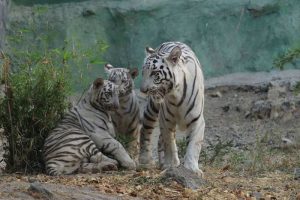 Scientists aren't sure as to how long do white tigers live in the wild but since these tigers have descended from Bengal tigers so there is every chance that both tigers share the same lifespans.
Nonetheless, a few scientists claim that the white tigers could have possibly lived more years in the wild as compared to Bengal tigers. In captivity, white tigers live as long as 10 – 15 years. In the wild, they could have lived up to 18 years max.
How Long Do White Tigers Live? – Video